Support Us
You can support our work here at PAWS in several ways.
1. Become a member (for a £5.00 annual fee)
Members receive regular Newsletters
not forgetting our own Calendar at Christmas.
2. Make a donation by cheque.
Please make your cheque payable to PAWS Animal Sanctuary.
3. Remember us in your will. See Legacies
4. Direct debit through your bank.
5. Make a donation here by using PayPal, any donation however small is very much appreciated.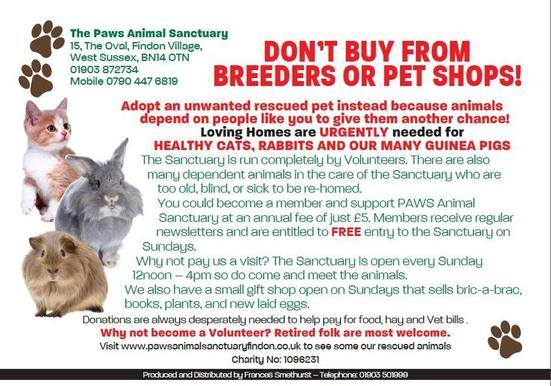 Elvis the Pony

Worst pony neglect ever seen

Stacey was called to rescue a pony from the side of the A24 near Findon Village early on a sunday morning, a dog walker saw the pony by the side of a busy road. Stacey said "I have never seen such a neglected pony, his backbone was sticking out and he was matted all over, had lice and his whole body was covered in prickly burrs." He was so weak it could only walk very slowly. We wormed him and cut off the worst of the matted fur, removing most of the burrs and prickles from the pony's coat, we had to cut his mane off because it had become so badly matted.He also had badly infected eyes.

The pony has been named Elvis.

We are hearing of more and more abandoned horses, or horses being given away for free because people cannot afford to keep their fields and feed their animals.

Elvis is now recovering at Paws Animal Sanctuary.

Elvis

After lots of TLC, this is what Elvis looks like now. Elvis now needs to have Tetanus, Flu inoculations and this week he is being Gelded. Its hard to believe he is the same pony we rescued in February.
Thank you for helping the animals.
| | |
| --- | --- |
| Silkie Chicks born on Easter Sunday | |
For more information on any of the above please contact:

or call